Call Now 866.429.8889 ext. 2
Talk to an Academic Business Consultant
Bring technology to the forefront of higher education
A complete, institution-wide solution for technology leaders, educators, and students.
ExamSoft Links to All Major LMS
Blackboard
Canvas
Moodle
D2L
Shibboleth
ExamSoft delivers efficiency, security, and integration that result in a seamless, consistent experience for all stakeholders.
One digital assessment platform across all programs and schools. Simplified, centralized billing.
Exams feature AES 256-bit encryption. Offline exams. Complete device control.
Faculty and students can utilize existing SSO. Connect with existing LMS. SAML integration available.
Benefits of ExamSoft for:
Students
Detailed reports and feedback on areas to focus on
See rationale for scoring/grades
Same software used by many certifying bodies and graduate programs
Immediately see grades on objective material
Easy-to-use interface
Faculty
Secure exams mean less time rewriting items
Detailed, but easy-to-use analytics and reporting
Better understanding of exam, student, and course performance
Import existing exam files from LMS or Word documents
IT
Consistent experience and single platform for the entire institution
Instructional Designers and Learning Technologists use the same platform as faculty
One training process
Cost savings and efficiencies at scale
How It Works
Create
Administer
Analyze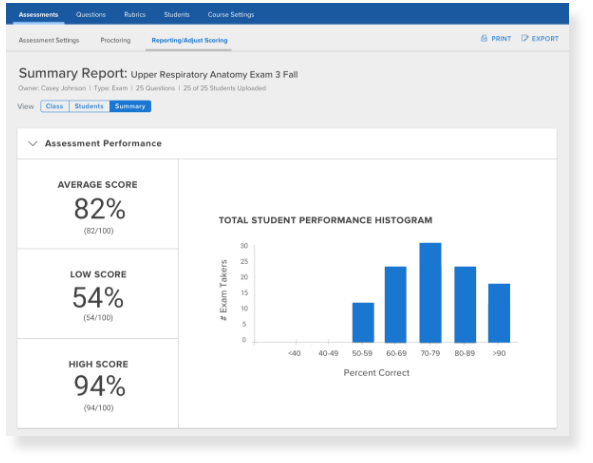 Faculty Portal
Quickly and easily create new exams using existing items or new ones using the ExamSoft faculty portal. Collaborate with other departments, course admins, instructors, IDs and LTs through one tool.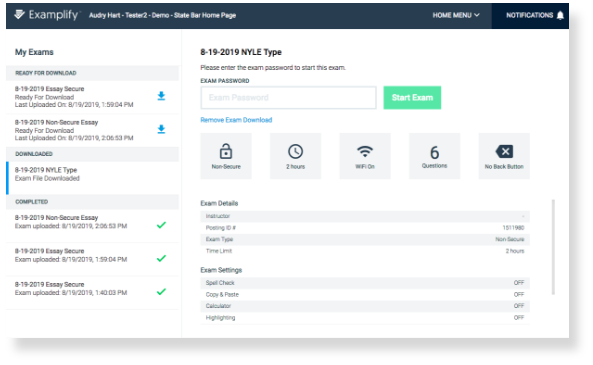 Examplify
Deliver exams safely and securely to the student application, Examplify. As a disconnected software solution, Examplify houses exams on the student's local machine. The only activity a student can do during the exam is take the exam - offline.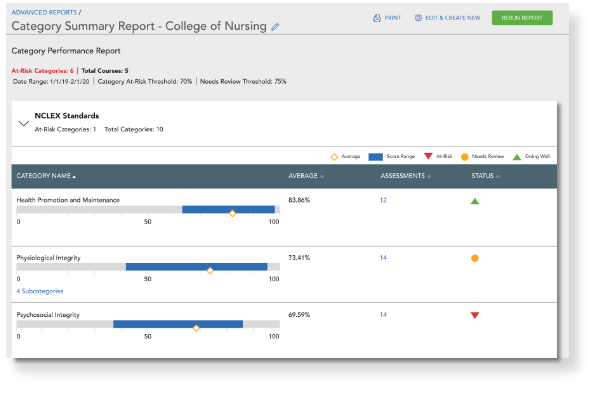 Reporting
Faculty and administrators can run advanced, longitudinal reports that show historical performance for categories, courses, and students. Review item performance statistics to see length and difficulty of your exam. See how students are performing on specific learning outcomes - and adjust instructional methods using data to improve learning.
See Results from Institutions Like Yours
We bring technology solutions that help solve problems. See how these ExamSoft customers benefited from implementing and using this robust software solution.

Arizona College
Needed a centralized system for storing, sorting, and gaining insights from exam data.

UNT
Drop/Fail rate declined after implementing ExamSoft.

Baker University
Improved exam quality and instruction, security, and licensure exam pass rates.
See their successes
Our clients' successes are our successes. We value each relationship we have across our large client base.
ExamSoft has a 98% client retention rate – our customers are happy and find value in the solutions we offer. We work with more than 2,000 programs around the world, in 33 different countries. We've successfully delivered more than 75 million exams over the last 23 years. Let us help your institution deliver a consistent, reliable exam experience for faculty, students, and administrators.
Get Access to Educational Assessment Content