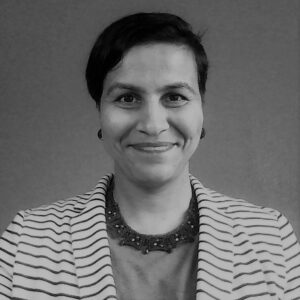 We, at ExamSoft, are pleased to renew our commitment to and partnership with the National League for Nursing's Foundation for Nursing Education. We joined the Foundation's Advisory Council a year ago, with our CEO, Sebastian Vos, serving as a member on the Council. This year, I'll be sharing those responsibilities with Sebastian.
So, let me take a moment to introduce myself. My name is Divya Bheda, and I recently joined the ExamSoft team as Director of Education and Assessment. My academic background is diverse – four degrees in various disciplines from three different institutions in two different countries. I have a B.A., an M.A., an M.S., and a culminating degree of a Ph.D. in Education. As you can see, I love learning! ?  But my professional passion is student success. I've spent the last decade and more working in assessment and evaluation and I engage in this work using a JEDI (Justice, Equity, Diversity, and Inclusion) lens. I am thrilled to be part of ExamSoft, a company dedicated to assessment, but more so— to educational success and opportunity for all!
What drew me to ExamSoft is the company's deep commitment to student learning and data-guided continuous improvement. The company lives this commitment by constantly striving to offer innovative and robust solutions and support to exam-takers (students), exam-makers (faculty), and programs and institutions. At ExamSoft, there is an active energy focus on advancing the efficacy of the curriculum, teaching, and student learning. My goal is to help us continue to enact this commitment in novel and creative ways as we partner with education-focused organizations like the NLN Foundation.
So, What Does Our NLN Foundation Partnership Mean?
First, this partnership reflects our renewed commitment to organizations we believe align with our mission and vision. It means we've made a $10,000 donation to the NLN Foundation for Nursing Education to support nurse educators and advance nursing education. We are helping support nursing leadership and essentials skill-building, faculty training and development, research, and by default — healthcare around the world. With the COVID-19 global pandemic and nurses being on the frontlines saving lives, we are indeed privileged to support this profession's learning and growth through our partnership.
Second, being on the foundation's advisory council means we will have the unique opportunity to collaborate with nursing and other related healthcare leaders on the board and beyond. We look forward to informing the work of the foundation as it strives to support, diversify, and ensure the educational excellence of nurse educators around the world. Learn more about the NLN Foundation.
Finally, by working with strong academic groups, such as the NLN Foundation, that directly support educators and their students, we will be in a better position to gain meaningful insights and a richer and deeper understanding of what this group of professionals and educators need to be successful. We have the opportunity now to learn about how we can support them better with our software solutions and we can be more responsive.
As I get settled in here at ExamSoft, I plan to become involved in other organizations, groups, and boards — national and global — with the trifold goal of championing student learning and success, supporting faculty excellence and efficacy, and enabling assessment technology and data use. If you have ideas or initiatives that we can partner with you on please reach out to me at dbheda@examsoft.com. I'd love to hear from you, and I hope our paths cross soon, until then, stay safe and be well.
Thank you,
Dr. Divya Bheda,
Director of Education and Assessment