In recent years, many colleges and universities have been reconsidering the admissions process for many reasons — racial and socio-economic bias and inequity surrounding standardized admissions tests are just two. The COVID-19 pandemic shined a light on disparities of access, prompting many institutions to seek a more equitable process for admissions, and institutions that had already been moving in this direction accelerated their progress toward change.
Recent data from College Board, referenced by Forbes, shows the following: "In 2018, combined SAT scores for Asian and White students averaged over 1100, while all other groups averaged below 1000. … A 2015 analysis found that students with family income less than $20,000 scored lowest on the test, and those with family income above $200,000 scored highest."
The potential reasons for these discrepancies include expensive test-prep services, test cancellations in certain regions, and biased exam content, among others.
ExamSoft recently teamed up with University Business (UB) to ask over 400 higher ed leaders their thoughts on new trends in admissions and how they see these changes affecting their institutions, now and in the future.
What Are Admissions Officers and Higher Ed Leaders Saying?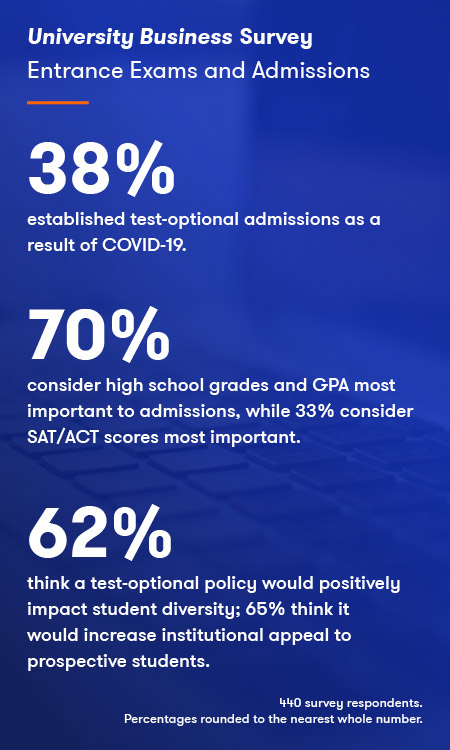 When asked what considerations were most important for admission to their institution, high school GPA topped the list at 69.77%, followed by strength or difficulty of high school curriculum (34.55%), and SAT/ACT scores (33.41%). Legacy status came last.
When asked what types of exams or tests were used for programs at their schools, 36.56% said they use standardized exams. Locally created placement or entrance exams accounted for 14.52%, 41.94% used both (depending on the program), and almost 7% weren't sure.
Many institutions went test optional (SAT/ACT) in Spring 2020, though many others were already moving away from standardized testing. More than 31% were test optional before the COVID-19 pandemic hit, 50% became test optional during the pandemic (though only 37.5% because of the pandemic), and 18.59% kept standardized test requirements.
Though many colleges and universities moved to a test-optional policy during the COVID-19 lockdown, some plan on returning to the previous model. For more than 11%, these changes will be temporary, while almost 57% plan to make the change permanent. Over 31% are not sure if the change will be permanent or not.
One way schools may attempt to improve access and equity in admissions is creating their own entrance or placement exams. A total of 14.11% are either developing such an exam or considering it, while 85.89% are not.
When asked if they believe their institutions will become test optional in the future, only 1.72% said "yes, definitely" and 37.93% said "yes, probably." Over 60% said they did not think their schools or programs would go test optional.
The Effects of Changes to Admissions Policies
Changes to admissions policies can have important and long-lasting effects on an institution, which include national ranking, accreditation status, brand or reputation, and susceptibility or exposure to legal action.
Revisions to admissions policies regarding standardized tests can have other effects as well: increased student diversity, appeal to prospective students, college readiness of incoming students, student retention, and graduation rates, as well as improved time to completion. Those surveyed said they believe diversity and appeal will improve if they eliminate standardized tests or make scores optional.
More than 67% of higher ed leaders said eliminating or making test scores optional would definitely or probably improve equity and access regarding race, family income, age, and gender identity at their institutions.
When asked how they use test scores (SAT, ACT, entrance/placement exams), survey respondents said, assigning class level, awarding scholarships, offering student success programs, and extending early interventions.
As colleges and universities work to adapt the admissions process to a new era in education, there are many things to consider. Will these changes have the predicted and desired outcomes? How well will new requirements predict academic success? Will these changes affect national ranking or accreditation status, and what are the downstream effects?
While no one can predict the future, one thing is certain: U.S. colleges and universities are making strides toward increased and equitable access to higher education.
---
Sources:
Forbes: Lawsuit Claims SAT and ACT Are Biased—Here's What Research Says
Inside Higher Ed: SAT Scores Are Up, Especially for Asians