The National Council of State Boards of Nursing set the national standard for nursing licensure with the NCLEX® exam. They update it periodically — sometimes with significant changes to reflect major shifts in pedagogical thinking and the real-world needs of employers.
Launching in spring 2023 is the Next Generation NCLEX (NGN) exam. This significant update to the NCLEX seeks to better evaluate a nursing student's sense of clinical judgment, reflecting a deeper understanding in the field of the importance of soft skills.
Testing for a soft skill, like a nursing candidate's sense of clinical judgment, is difficult. To help improve measurement, the Council has introduced new question formats in the NGN.
ExamSoft has already deployed a number of these new question types to help you prepare your students for the NGN.
Case Study (Electronic Health Record)
Candidates review a patient scenario consisting of admission notes, vital signs, nurse's notes, and other details available in customizable tabs. The Case Study artifact can be used within stand-alone Trend and evolving case study questions.
Matrix (Grid)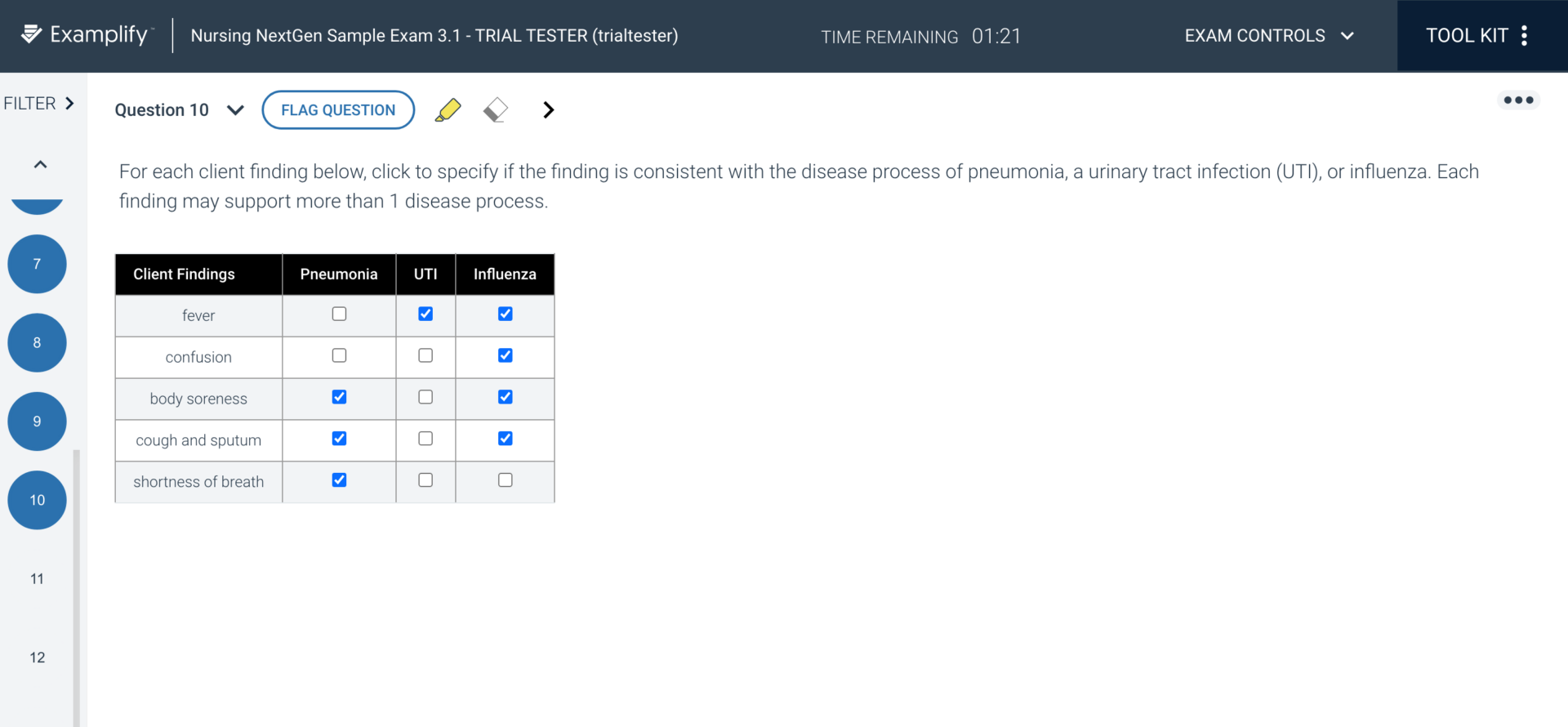 The Matrix/Grid question type is ideal for measuring a candidate's understanding of complex, multifaceted clinical scenarios with a single exam item. These items present a table of answer options, from which candidates can choose multiple options in a per-column and/or per-row basis.
Bow-tie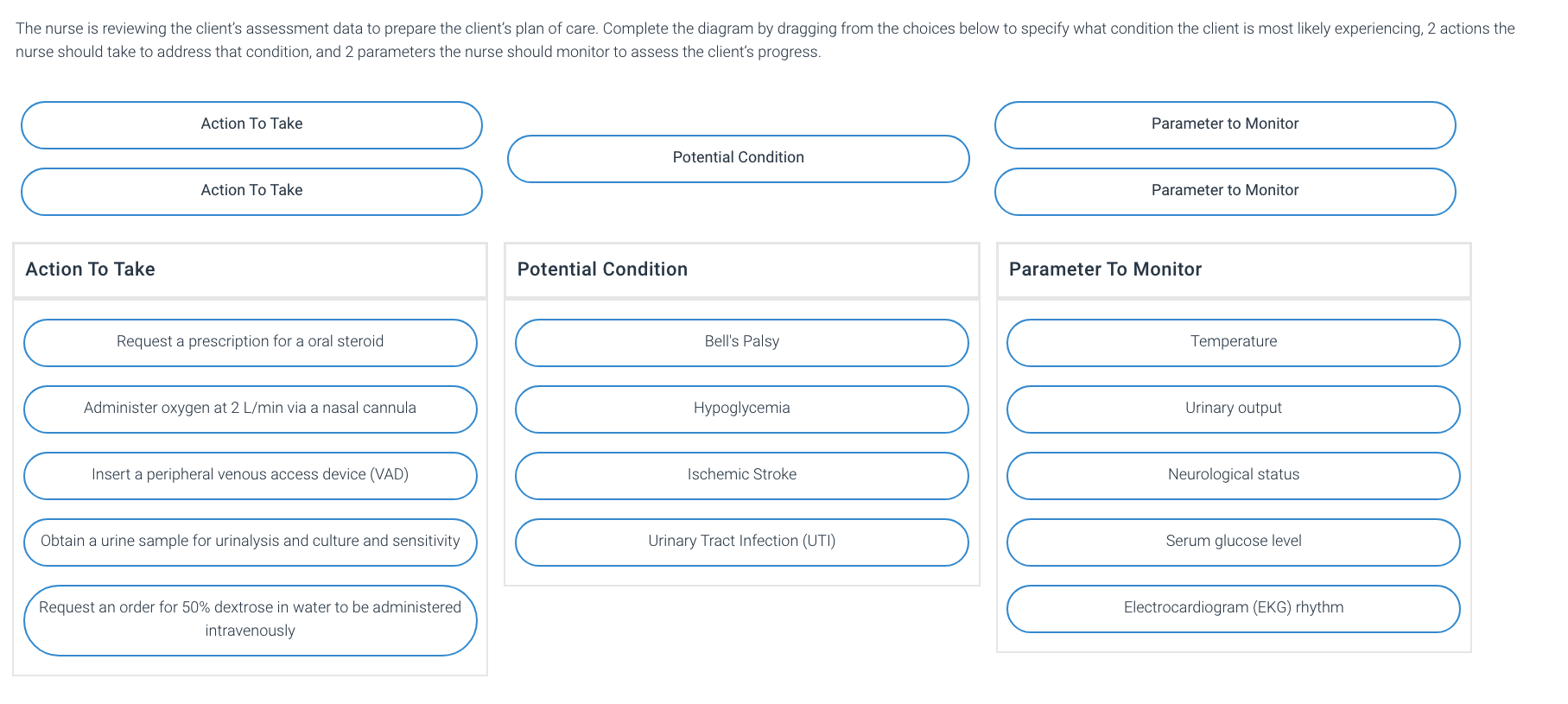 Adapted from NCSBN.
Drawing on all six steps of the NCSBN Clinical Judgment Measurement Model, the Bow-tie item type requires candidates to analyze cues within an electronic health record or patient scenario in order to determine what medical condition the patient is experiencing, actions to take, and parameters to monitor.
Drop-Down (Cloze, Table, Rationale)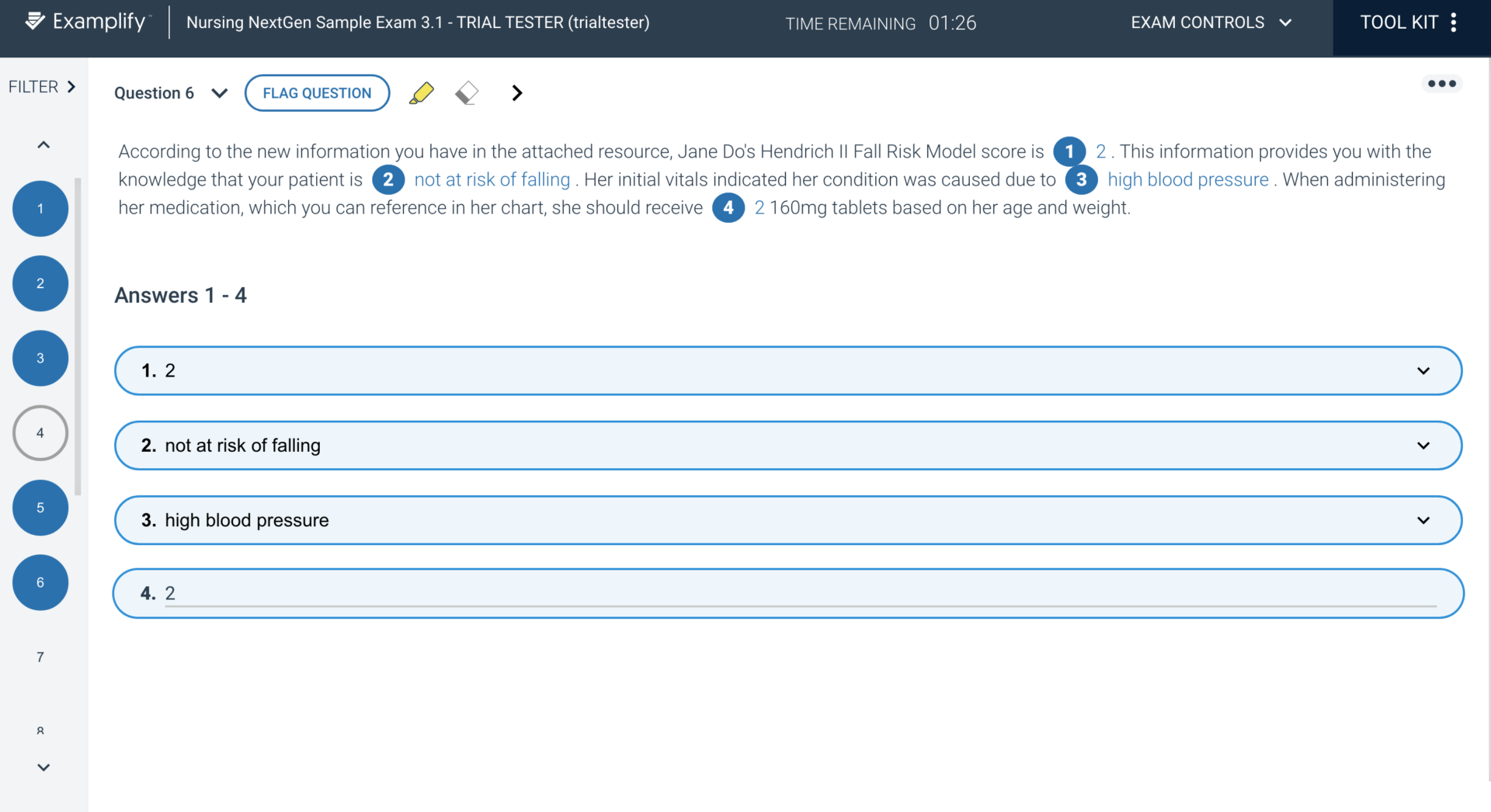 This item requires candidates to select an option from provided choices within a table, chart, or paragraph. Within the new NGN, multiple drop-downs may be used to assess clinical judgment.
Drag & Drop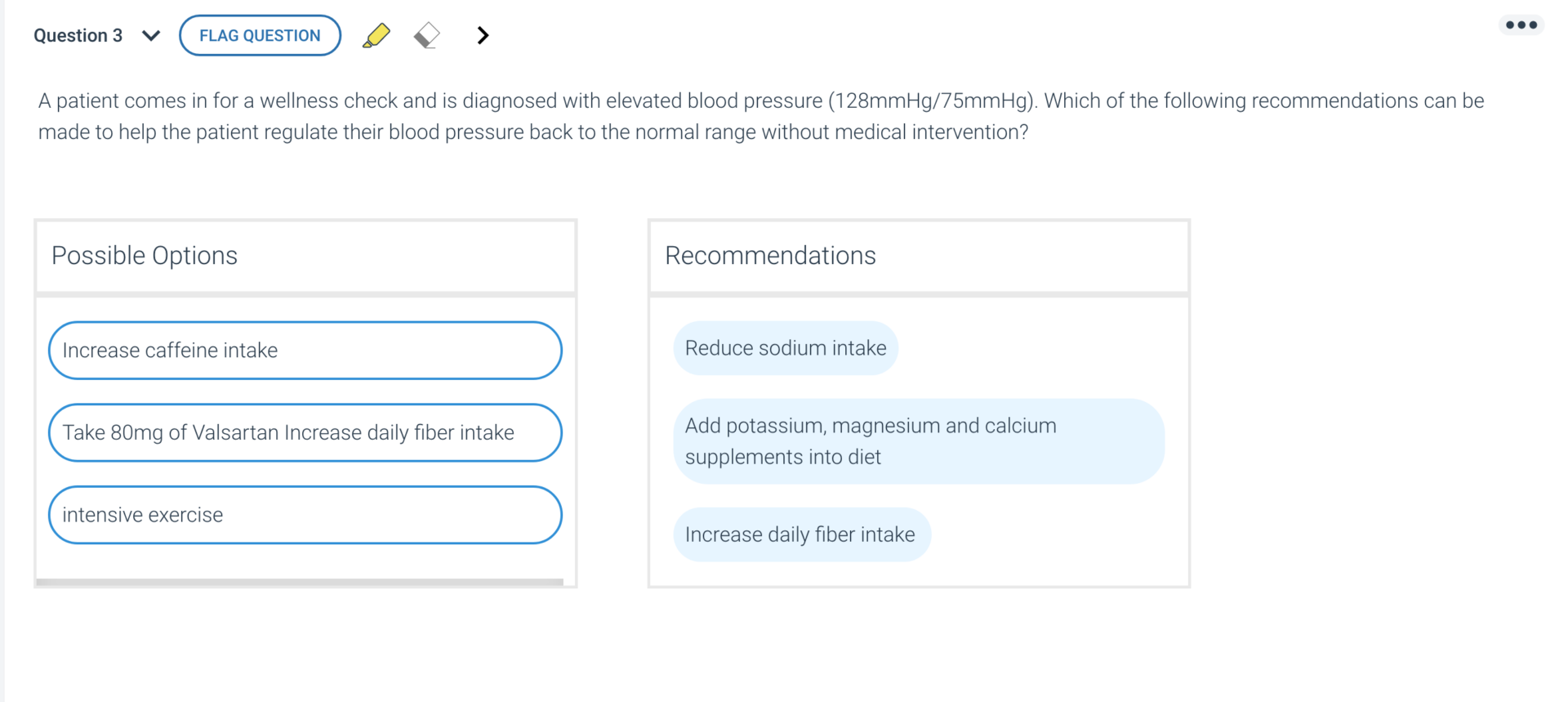 The Drag & Drop question type in the NGN is very similar to the ordered response questions in the current NCLEX, though there are some key differences. For one, Drag & Drop questions do not require every option to be used in an answer, challenging exam-takers in thoughtful ways.
Extended Multiple Response
The Extended Multiple Response type, though similar to the previous NCLEX Multiple Response Questions, now includes additional answering options and partial credit scoring.
In addition to the question types above, ExamSoft also supports other item types used in the NGN: Single Best Choice, Matching, Dosage Calculations, Hot Spot, True/False, Essay, and Fill-in-the-blank.
To successfully train nurses, nursing programs need to give their candidates two different sets of tools: the medical and clinical judgment knowledge they'll need on a day-to-day basis, and the exam-taking knowledge they'll need to competently and confidently navigate licensure exams like the NGN.
At ExamSoft, we understand these dual challenges and work hard to give you, as an educator, the tools you need to properly equip your nursing candidates. Our offerings don't stop at the most up-to-date question types — click here to learn more about how ExamSoft can be leveraged to help nursing programs.