Deliver Secure Exams from
Any Location
On-Campus or Remote.
ExamSoft Works with Any Modality
ExamSoft's computer-based assessment solution allows you to choose what's best for your program and institution, giving you the flexibility to administer exams in the classroom, in a remote setting, or some hybrid of the two. Our platform provides a consistent assessment experience for exam-takers and gives educators the confidence to deliver exams in any modality. No matter the setting, ExamSoft offers a suite of convenient assessment features: 
A More Controlled Testing Environment
Protect the integrity of your exams by administering assessments offline – from any location – with a platform that fully controls test-taking devices. 
All programs are disabled on an exam-taker's device, including internet access, web browsers, screensavers, and software applications
Exam-taker actions, such as copied and pasted text, text entries, time spent on questions, content deletions, and navigation, are logged and time stamped.
Option to randomize questions and answers so exam-takers aren't encountering content in the same order
Advanced Integrity Options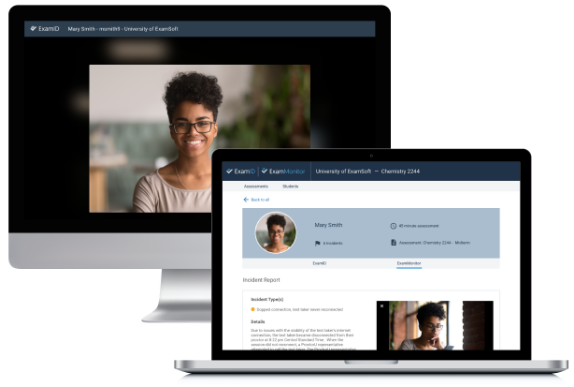 Verify the Identity of Each Exam-Taker
ExamID eliminates the possibility for exam–taker impersonation with a two-step identification process.
1. Unique Usernames and Passwords
2. Photo Verification Technology

Monitor Exam-Takers in a Remote Setting
ExamMonitor works with ExamID to provide the highest level of exam security. Identify and deter academic dishonesty without being in the room with exam–takers.   
Continuously monitors video and audio throughout the assessment
Advanced A.I. software detects abnormal student behavior that may signal academic dishonesty
All flagged incidents are documented and shared with course administrators for final review
Faculty and Administrator Efficiency
Computer-based testing is an efficient way to assess students in any educational format, but it's especially valuable in a remote setting. Exam-takers and instructors use one cohesive system, allowing for automated grading that saves hours of instructor time and sends immediate feedback to students.    
No back-and-forth emails with attachments of exams 

 

Instant 

objective

 grading 

 

Digital item bank 

 

No need for multiple software solutions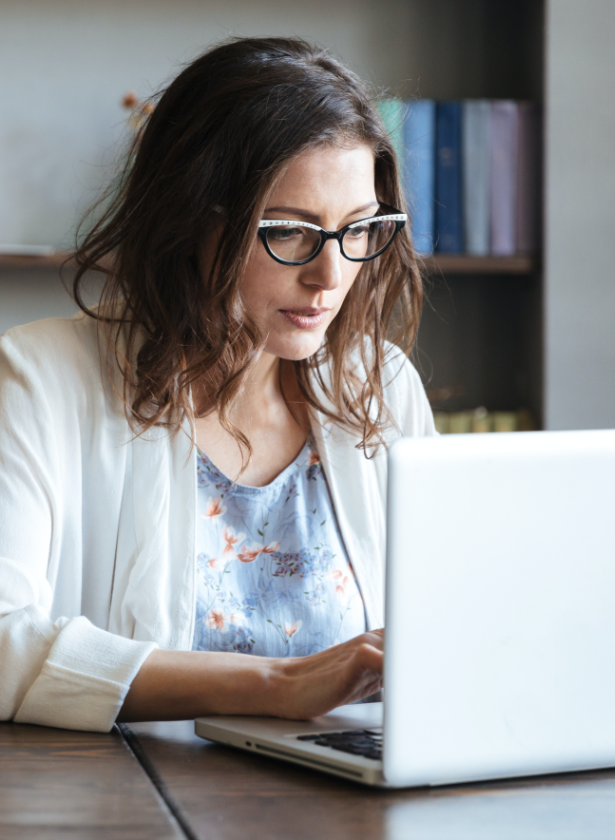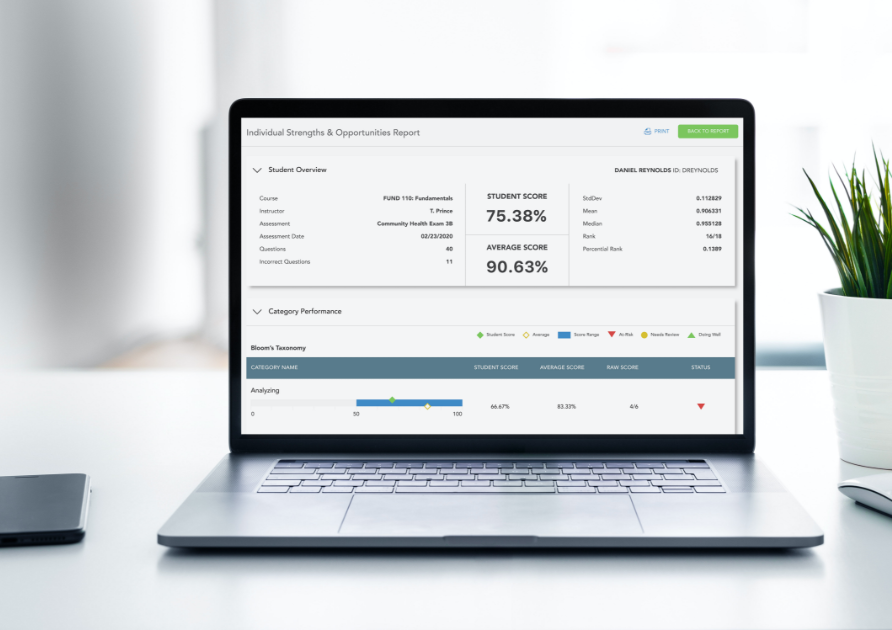 Data & Reporting
With ExamSoft, you have access to insightful student, course, and program performance data regardless of modality. Quickly and easily find opportunities for student remediation and instruction adjustments to improve learning outcomes, engagement, and retention.  
Strengths & Opportunities reports for

learners

 

 

Item-level analysis of difficulty level, point biserial, discrimination index, and more 

 

Average score and KR-20 value for each exam 

 
Contact us to speak to an Assessment Business Consultant and learn more about ExamSoft's unique assessment platform.
TESTIMONIALS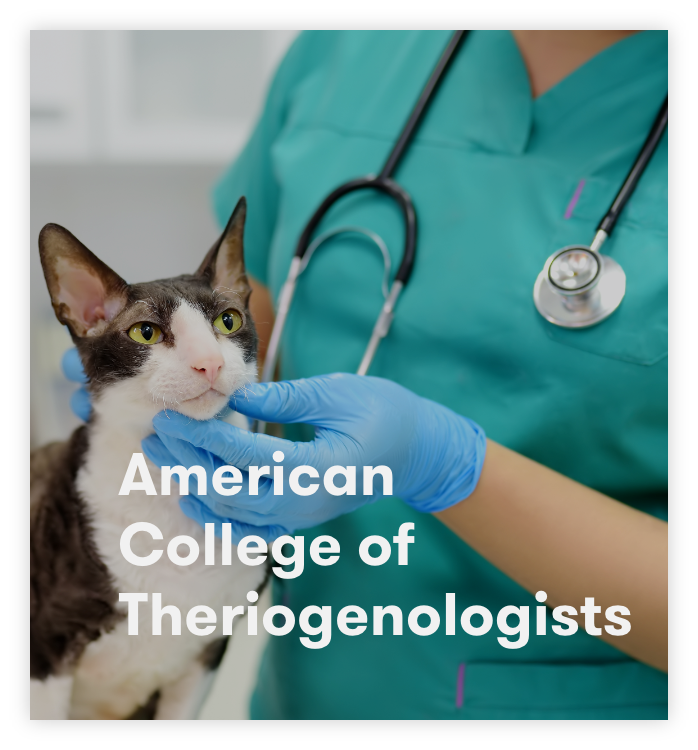 "The adoption and use of ExamSoft to prepare and administer the American College of Theriogenologists (ACT) Certifying Examination and the support of Dr. Rob Malinowski fortuitously prepared the ACT for the unforeseen need to administer the Certifying Examination remotely in 2020."
American College of Theriogenologists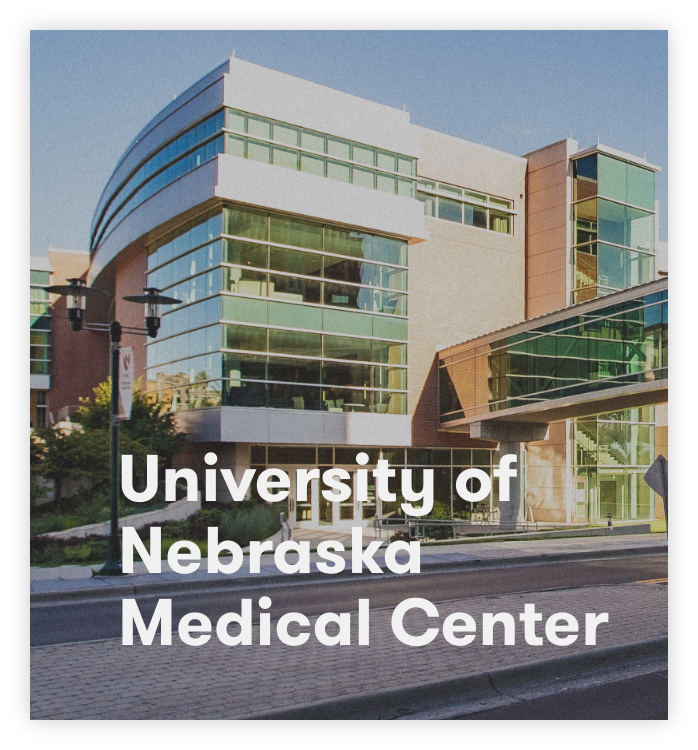 "At the height of the pandemic and remote learning — March through May…we knew some students had kids and spouses at home, so we gave them a larger timeframe to take the exams. I would send out their password at the beginning of the day and the exam was already secured on their computer."
UNMC College of Medicine